Sea Kayaking Tours
1. Sea Kayaking – Wairau Lagoons
A two hour basic introduction to Sea Kayaking or alternatively you may just want to enjoy an adventure paddling a kayak in a large estuary with unique beauty and bird life.  No experience required.
Transport, guide and kayak equipment supplied. 
Price $75  per person  Minium of two people
2. Sea Kayaking – Port Underwood
Just 20 minutes from Blenheim to the water. Experience the beauty of the rugged East Coast of Marlborough.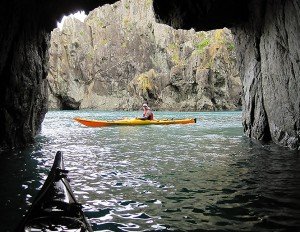 Half day tours – this one is very popular. Leave from the sandy Whites Bay beach and within minutes we are in a wilderness area.  Meander around the rocks, explore the nooks and crannies, enter the caves and tunnels, and enjoy the scenery with views of the North Island and Cook Strait in the distance.                     "A unique treasure experienced by few"
No experience required
Pick up, drop off at the Blenheim i site
Learn about local history "The Wairau Foray" Cook Strait telephone cable.
Small groups, personalized service and instruction
Price $95 per person Includes guide, kayak equipment, food and drink.  Times 9am and 2pm. Allow approx. 4-5 hours per trip
3. Multi Day Fully Catered Trips
Queen Charlotte Sound
Experience the picturesque Queen Charlotte Sound, with a  more challenging kayaking adventure.  We offer you a carefree guiding adventure from 2 to 5 day trips. If time is limited the water taxi option is available at extra cost.
Two day trip $250 Leave Waikawa Bay, paddle to Ratimera Bay camping the night. On the return trip we visit King Salmon fish farm.
Three day trip $380 First camp site at Ratimera Bay then paddle onto Blumine Island for the second camp site.  A short history tour of the WWII gun emplacement.  $460 First night camping on Blumine Island. Second night at Cannibal Cove, visiting Ship Cove. Third night back on Blumine Island.
Four day trip $460 First night camping on Blumine Island. Second night Cannibal Cove, visiting Ship Cove on the way. Third night back on Blumine Island.
Five day trip $520 First night camping on Blumine Island. Second and third night at Cannibal Cove, visiting Ship Cove and Motuara Island bird sanctuary. Forth night back on Blumine Island.
Time must be allowed before each trip begins for  instruction on handling a kayak and a safety briefing.  No experience required, however multi day trips do require an average level of fitness. More suited to persons age 15 and over.
What you will need to bring
Half day trip: Sun hat, sun screen, sun glasses, change of clothes, sneakers/paddle shoes and a smile. 
Multi day trip: All the above, plus clothes for camp, sleeping bag, foam sleeping pad. thermal top and bottom, rain coat, wind breaker, drink bottle, toiletries, personal medication.                                     
We supply: Transport, kayak equipment, tent, cutlery, crockery, food, drinks, and cooking equipment.
Note A minimum of two persons on any one trip
Contact: For all bookings and enquiries contact Marty at blueskua@hotmail.com or Mob 021-0431170
Sea Kayak Marlborough has the right to cancel, postpone or substitute any sea kayak trip if weather or any other factors dictate.  We have a 24 hour cancellation policy.